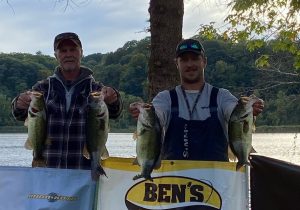 On October 1st and 2nd the Federation Team Trail held its Tournament of Champions on the Connecticut River out of Norm's Marine in Hinsdale New Hampshire. 9 Team qualified and competed for the title of TOC Champions.
Day 1 the water was high and flowing. The wind was light and variable, sunny skies. The anglers were able to run upriver to the big island with no problem if they chose. Some did and were rewarded with some great smallmouth action. Other boats stayed down river to chase the good largemouth population in the southern end of the river and they caught them. Day one leader with 27.52 LBS of Largemouth was the team of Steve Julius and Joe Smith. Second with 26.17 LBS of Largemouth was Bruce Burns and Dave Miller. They also had Lunker Largemouth 4.88 LBS. Third with 20.53 LBS was Steve Marshall and Norm Cormier. Fourth was Steve Kaczenski and Anthony Consolini with20.37 LBS. Rounding out the top five with 20.23 LBS of Smallmouth was Bob Rivet and Billy Sullivan. Lunker Smallmouth was a tie between the team of Kaczenski and Consolini and the team of Langton and Strazzere with a 3.61 LB smallie.
Day 2 the anglers had cloudy and windy conditions with very little flow to the river. Another day on the river another big bag of largemouth for Bruce Burns and Dave Miller as they brought 23.83 LBS of largemouth on day 2 with a total of 50.0 LBS to take the Team Trail Tournament of Champions title! They also weighed in a 4.85 LB largemouth for Lunker. Great job guys! This was the third win this year on the trail for this great team! Second place went to Steve Julius and Joe Smith with 15.32 LBS on day 2 for a total 42.84 LBS. Third place went to Steve Kaczenski and Anthony Consolini with 18.58 LBS and 38.95 LBS for the two days. Steve and Anthony took day 2 Lunker smallmouth with a 4.03LB smallie. Fourth place went to Bob Rivet and Billy Sullivan with 18.58 LBS day two and total of 38.81 LBS. Fifth place went to Dave McNary and Justin Wilson 20.01 LBS day 2 and over all total of 34.28. Great job by all the anglers as every team cashed in on the TOC. Hope we see you all back next year!