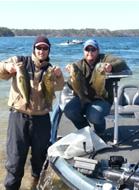 This year's Easter Bunny Open featured better-than-usual weather, it being toward the end of April and all. But it was still no picnic on the water, with temps in the low to mid-50s chilled further by a sustained north/northwest wind of 10-12mph and gusts to 23mph for most of the day. The bluebird skies made it nicer for fishermen but did not help the bite. Water temps barely moved throughout the event, remaining in the upper 40s for the most part, barely reaching 50 in some wind-sheltered spots, but the sun seemed to have little warming effect on the water. Needless to say there was little, if any, sign of early bedding smallmouth.
I have no reports of what the successful patterns or areas were this year.
While fish were not as difficult to come by as last year (when only 12 fish were weighed among 25 teams!), it was a very tough bite and only one limit was weighed. 37 fish came to the scales from among the 24 teams who participated. While the vast majority of fish were smallmouth, one notable largemouth was weighed, and what a beast it was! The team of Warhurs/Martin hauled a 7.56 monster to the weigh-in, which easily surpassed the previous EBO lunker record of 6.03 (smallmouth) by Proia/Bevilaqua in 2012. For as long as we've been keeping records anyway.
As far as the numbers go, first place went to the team of Dave Andrews and Scott Leppanen with the day's only limit, which weighed 15.38 lbs. Second place went to the team of Paul Carvalho and John Boudreau whose 4-fish bag weighed in at 13.01 lbs. Third place and lunker largemouth were claimed by Rich Warhurst and and Mike Martin, with a 3-fish total of 10.99 lbs. The final paid spot and lunker smallmouth went to the team of Russell Kleckamp and Dave Krukeil, whose bag came in at 10.05 lbs. Their big smallie weighed 4.64 lbs.
So that's it for this year. Thanks as usual to all who participated. We hope you all had a great time whether you caught fish or not, and hope to see you back next year when the weather is sure to be warmer and the fish more plentiful (ya, right…). Thanks for supporting Avid!