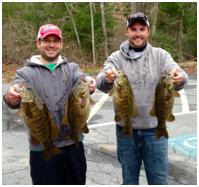 The second Mass Bass State Team Benefit was held on Mashpee Wakeby Saturday April 26, 2014; it was overcast and cool to start the day with rain off and on. The bags brought to the scale were no surprise as Mashpee always seems to kick out big bags year after year. With the fish holding in a pre-spawn phase waiting for the water to warm the majority of the fish weighed in were caught throwing jerk baits, jigs, and rattletraps. Congratulations to the top three teams:
1st Randy Almeida & Steve Estes (8 smallmouth) 26.23 lbs
2nd Bob Rivet & Steve Forand 25.72 lbs
3rd Dave Andrews & Scott Leppanen 23.82 lbs
*Honorable mention: Team McNary finishes in top 5 in back to back State Team Opens!
Lunker Largemouth went to the team of Bob Rivet & Steve Forand with a beautiful 5.86 pound slob; Lunker Smallmouth was 4.88 lbs weighed in by Randy Almeida & Steve Estes.
On behalf of the State Team we would like to thank everyone that has come out to support us at the first two tournaments. We would also like to remind everyone that our third and final State Team Benefit will be held on Saturday July 12 at Lake Winnipesaukee launching out of West Alton Marine.
Special thanks to Dave McNary and the State Team members who helped run another successful Mass Bass tournament!