The final Mass Bass Federation Youth Tournament of the year took place on July 19th at Whitehall Reservoir in Hopkinton.  There were 8 Junior Division anglers and 13 Senior Division anglers competing in the last tournament.  There was a lot at stake for some anglers with a trip to the Jr Nationals for the point's winners in each division.   The weather cooperated and gave the anglers a nice day to fish on a body of water that is weedy and full of bass.
In the Senior Division the winner was Ken Lamb weighing in 13.42 pounds of Whitehall largemouth.  There were also two other 13 pound limits weighed in.  Mitch Kinz took second with 13.29 pounds and Robbie Gramstorff had 13.07 pounds for third place.  There were five 5 fish limits in the Senior Division with fourth place Anthony Campbell and fifth place Max Danese also weighing in limits.  The Senior Division winner for points for the year ended up as a tie between John Sheehan and Anthony Campbell with 289 points for the year.  The tie is broken by most fish.  John Sheehan beat out Anthony Campbell by 1 fish.  We would all like to wish John Sheehan the best of luck at The Bass Federation Junior World Championship.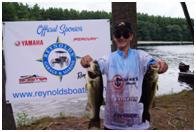 In the Junior Division Stephen Stroz won with a five fish limit weighing 7.34 pounds.  Aiden Bertram was second place with 6.96 pounds and third place went to Nate LaCombe with 5.56 pounds.  The win gave Stephen Stroz the points Championship for the year.  Stephen came back from a three point deficit to take the title.  Congratulations to Stephen as he is off to The Bass Federation Junior World Championship.
The First thing we need to do is to thank Reynolds Garage and Marine for their support of the Mass Bass Federation Youth program.  Without sponsors like Reynolds there would be no program.  The Mass Bass Federation would like to thank all of the boaters for helping out with boats for all the tournaments for without you this also could not happen.  Also thanks to all of the parents for bringing the anglers to all of the events.  The Federation would like to recognize All State Bass Club for cooking and working at all the Youth Tournaments.  Most of all, we need to thank, Youth Director, Bob Rivet for all his hard work as.  Please if all the anglers go on Massachusetts Bass Federation Youth Anglers on Facebook and thank Bob.  I am sure he will appreciate it.
Hope to see you all next season!