There was great weather for the second Mass Bass Federation Youth Trail Tournament held on Long Pond in Lakeville.  Long Pond is tough for any adult club to find good weighs, but these young anglers did a great job by bringing in some great bags of fish.  I would like to first thank the Federation Youth Sponsor Reynolds Boats for their support for our Youth events.  Other thanks goes out to all the boat captains that gave up a beautiful Saturday to come out and take these young anglers out fishing.   Without the support of the Federation members and sponsors these events just cannot happen.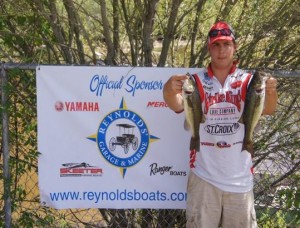 The Senior Division was won by Matt Hobson with 5 fish weighing 8.04 pounds.  Matt fished with former Federation Divisional Champion and Reynolds sponsored angler Jim Gildea.  Jim was gracious enough to hand out all the awards to all the anglers and answer any questions they had.  He told me he really enjoyed talking to all the future Federation anglers.
The Junior Division was won by Dan Dowrowski with 5.93 pounds.  Dan fished with many time State Championship qualifier and former State Team member Skip Bryant.  Skip drove all the way out from Western Mass to help out and also enjoyed a day with a future Federation angler.
There were almost 200 pictures take of this event.  There were some action shots of the anglers fishing as well as all anglers at the weigh-in and awards presentation.  Mass Bass Federation Youth Director Bob Rivet has been giving out goody bags to all those anglers that compete.  At this tournament there were a few rods and reels also given out as door prizes.  Bob wants to thank all those that have been so helpful with donations and all the members that show up to help out.
Don't forget the next Youth Trail Event is July 19th at Whitehall Reservoir, on Rte. 135, Wood Street in Hopkinton, MA.  This tournament will count for the TBF/FLW National Championship in August!