Dave McNary named Massachusetts Bass Federation "Man of the Year" for 2013!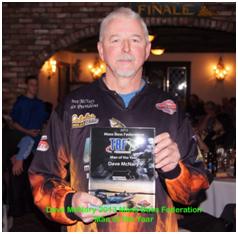 The Federation rewarded Dave for all of his hard work and all of the time Dave has put in to make the Federation better for all the members.  Many other awards were given out at the Federation banquet held at Ken's Steak House.  The banquet was well attended as usual with a lot of great raffle prizes donated by our sponsors.  There were many awards presented.  "Club of the Year" went to Northeast Bass Anglers.  Youth "Club of the Year" went to Wildside Bass Anglers.
President Erik Kaplan welcomed everyone and thanked everyone for attending the Mass Bass Federation annual awards banquet.  Erik started out by acknowledging important attendees in the room.  Tom Flannery from MA DCR our guest speaker for the evening.  John Candalmo TBF of RI President, and Jerrilyn and Mike Deflippo from the TBF RI Federation as well.
Erik thanked all of the Mass Bass Federation board members, Vice President Dave McNary, Treasurer Pete Demoya, our new Secretary Joe McKinnon and our two new Youth Directors Bob Rivet and Randy Almeida.  Erik also thanked Rich Snow and Marc Bourque the 2013 Youth Directors.  Without all of their help we would not be where we are today. Erik also thanked his wife Rachael and our daughter Rylee for putting up with all that goes on with being the Federation President this year.
Erik introduced Tom Flannery, Aquatic Ecologist for the Mass Department of Conservation and Recreation.  Tom gave a very interesting speech on invasive aquatic plants.
Erik thanked all the Federation sponsors, Northern Bass, Stormr, Fitt's Insurance, MinnKota, Humminbird, Navionics, Reservoir Dawgs Customs, Go Graphix, USA Marine, Portside Marine, Boatworks, Casa Mia Italian Restaurant, RMR Associates, Lakeside Motel and Cabins, Lead Free Bass Jigs, MacLellan Metal Finishing and Paul E. Worms as local sponsors and Lowrance, Ranger Boats, Evinrude, Berkley, Cabela's, Soar Bat, Chevy, and FLW Outdoors as National partners.  Without the help of these sponsors we would not be able to provide you with the benefits and opportunities that we do.  Thanks to Kens Steakhouse as well. Continue reading